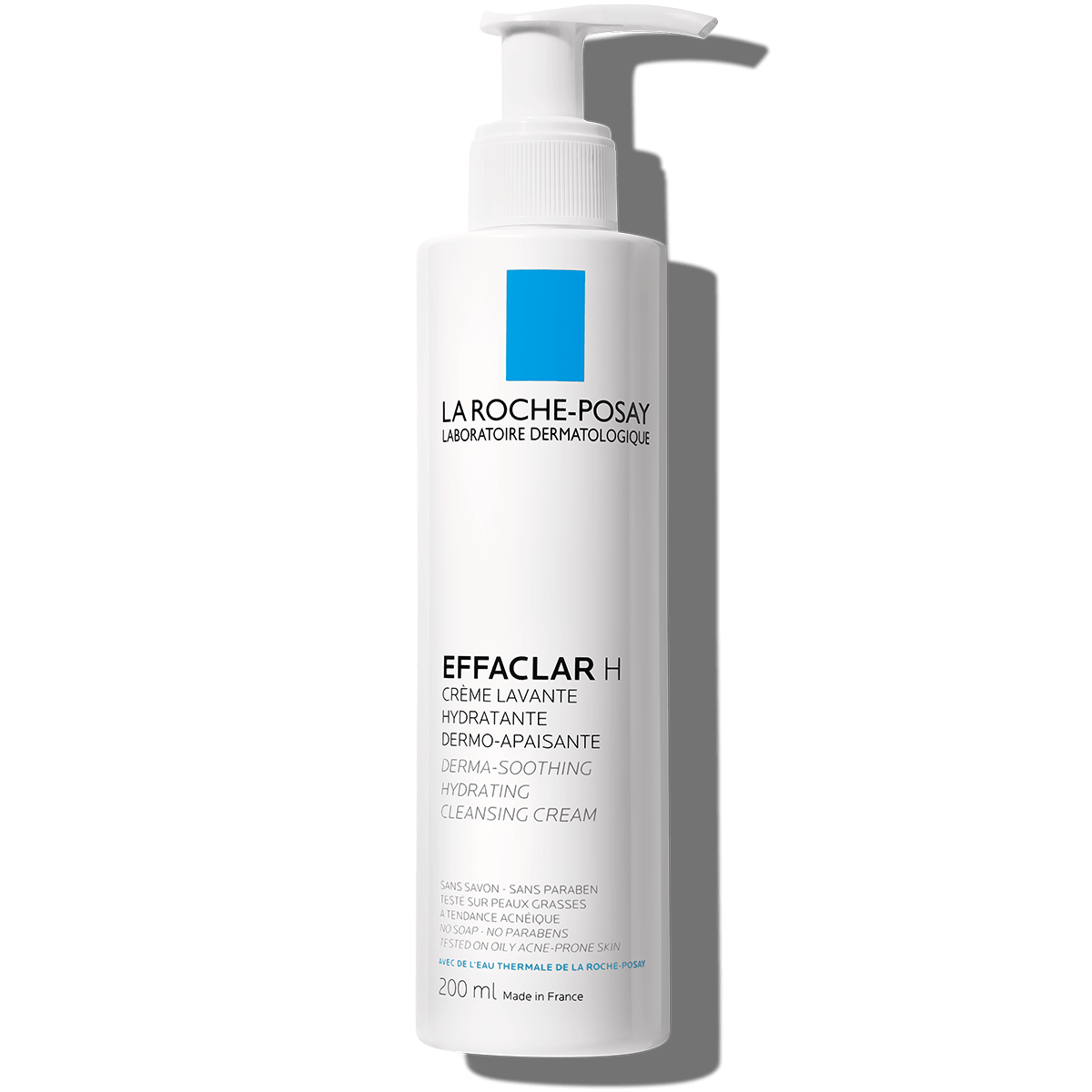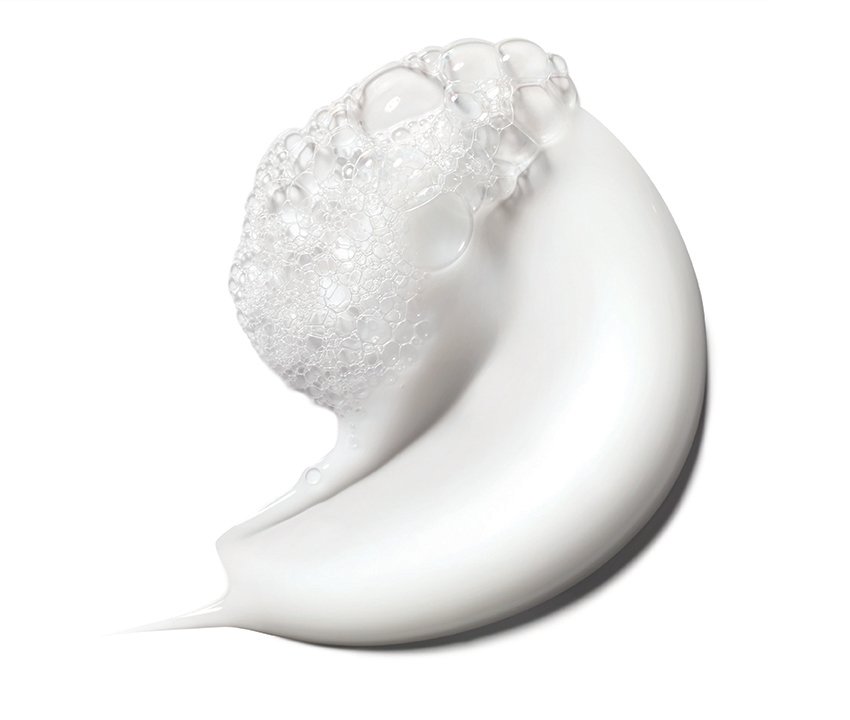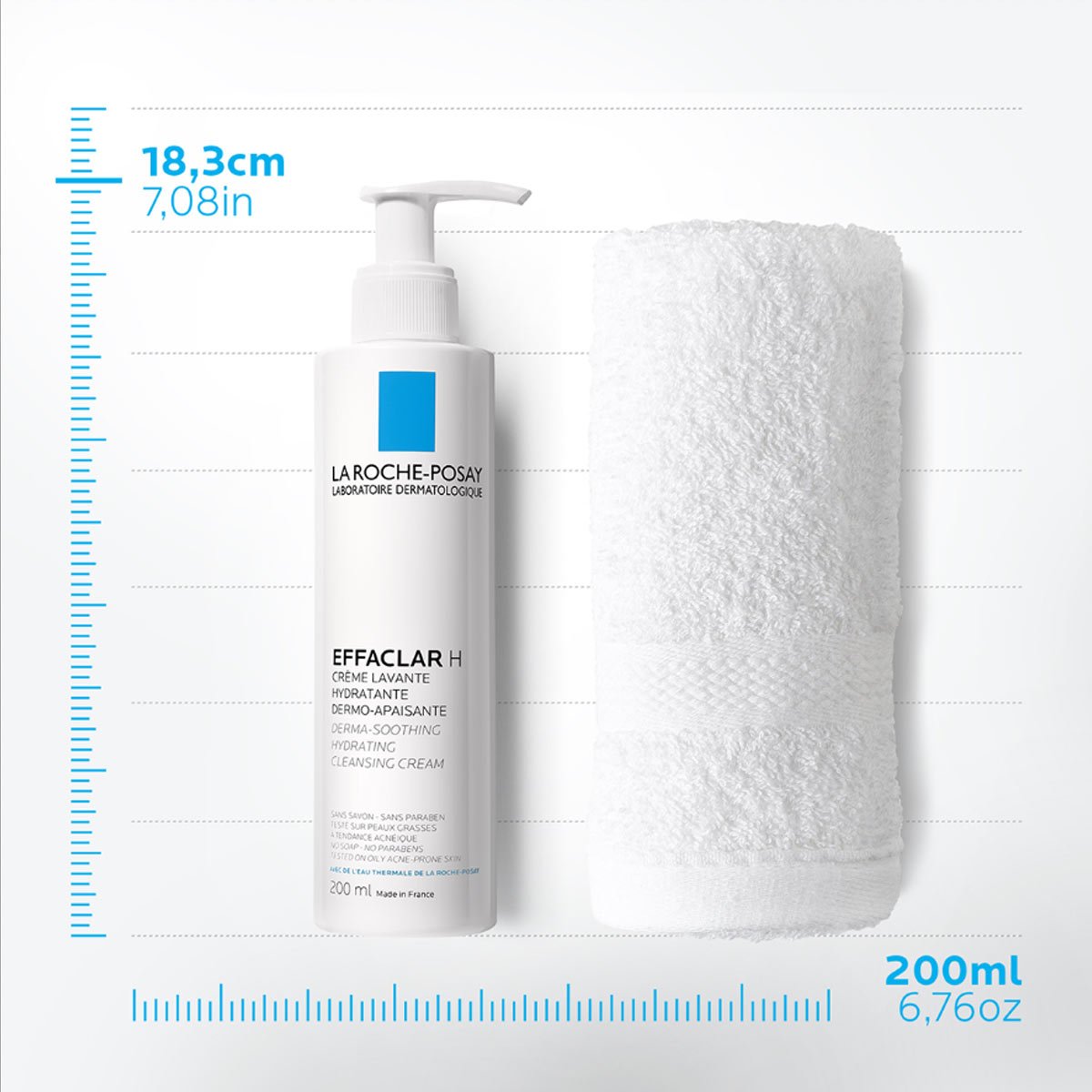 SKIN MADE FRAGILE
BY OVER-DRYING TREATMENTS
OILY ACNE-PRONE SKIN
WHAT IT IS

EFFACLAR H Cleansing Cream is a hydrating facial cleanser for oily skin weakened by drying treatments.

HOW TO APPLY
ANTI-FRICTION APPLICATION TECHNIQUE
Lather with water in the palm of the hand. Apply and spread overface as follows: With your fingertips, smooth the skin starting between the eyebrows, up to the hair base, and spreading the cream from the middle of the forehead out towards the temples.
Repeat gently 3 times.
Using the palms of the hands - flat against the skin - smooth the face starting from the chin, up to the nose. Then dab outwards the sides before going back down to the chin.
Repeat gently 3 times.
Rinse with water and gently pat dry with a towel.
TEXTURE

Ultra-comfortable smooth cleansing cream.
With La Roche-Posay Thermal Spring Water.
KEY BENEFITS

EFFACLAR H Cleansing Cream gently cleanses, purifies and soothes skin to restore comfort.
Reduces the side effects or felt of over-drying treatments.
Respects the barrier function of the skin.
THE SCIENCE BEHIND

Tested under dermatological control in combination with over-drying treatments.
Non-comedogenic.
Suitable for dry and irritated skin.
Validity after opening:
12 Months
Pump

Adults
Teenagers

Soothing
Hydrating
Purifying


Face
KEY INGREDIENTS
LET'S TAKE A LOOK INSIDE
NIACINAMIDE
Active ingredient for intensive soothing. Decreases redness.
Zinc PCA
Reduces sebum secretion. Provides a purifying effect.
LA ROCHE-POSAY THERMAL SPRING WATER
VIEW ALL INGREDIENTS HIDE ALL INGREDIENTS

AQUA / WATER • ETHYLHEXYL PALMITATE • PROPANEDIOL • GLYCERIN • PENTYLENE GLYCOL • SODIUM LAURETH SULFATE • NIACINAMIDE • COCO-GLUCOSIDE • ACRYLATES/C10-30 ALKYL ACRYLATE CROSSPOLYMER • ZINC PCA • SODIUM HYDROXIDE • DISODIUM EDTA • CAPRYLYL GLYCOL • PHENOXYETHANOL • PARFUM / FRAGRANCE

B176711/1
IT'S PROVEN
CLINICAL EFFICACY
-67% Dryness, 10 min after the shower*
+52% Softness, 10 min after the shower*
WELL TOLERATED WITH ISOTRETINOIN
Immediately :
85% of women agree that skin feels more comfortable**
76% of women agree that skin feels less itchy**
*Clinical study - 40 women - Use 10 min.
** Self-assessment, 55 subjects with very dry to dry skin due to isotretinoin treatment. 100% sensitive skin. Application 2x/day during 28 days.
FIND WHAT SUITS YOU
BETWEEN THESE TWO
Dermo-soothing hydrating face cleansing cream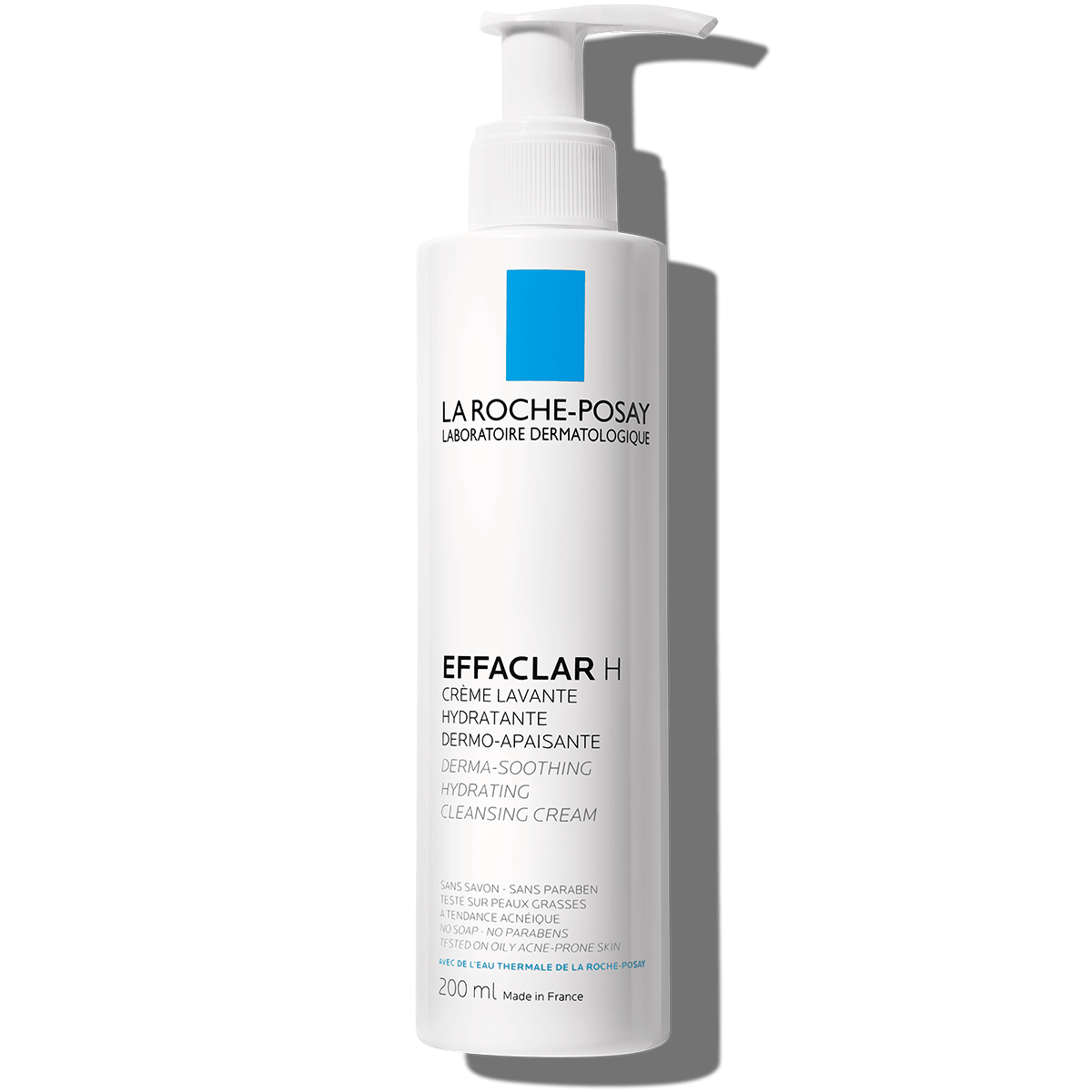 Soothing
Hydrating
Anti-imperfections
For face and body fragilized by drying treatments
Cleansing, Purifying & Foaming, removing Impurities
Reduces Sebum
For Oily Acne-Prone Skin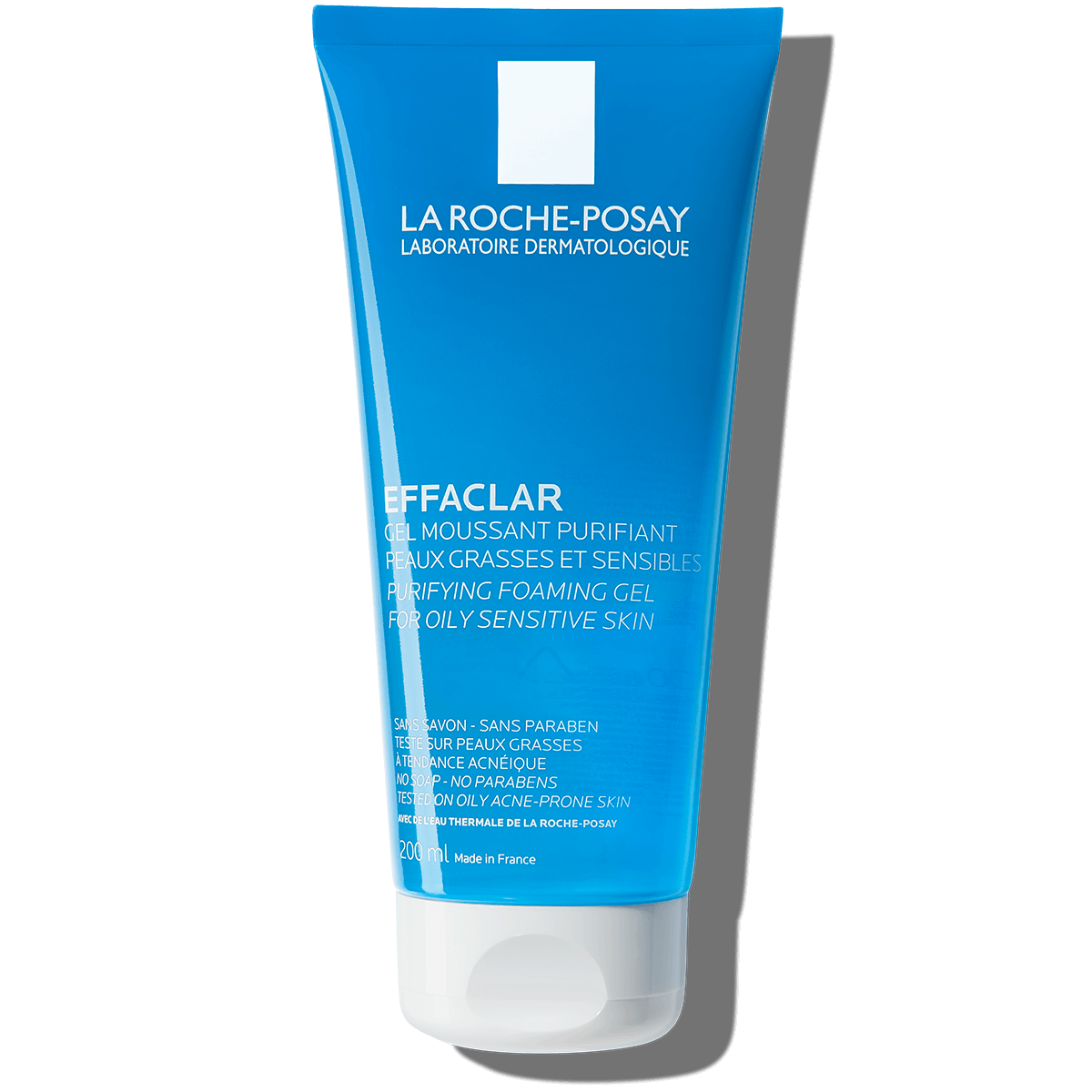 Leaving acne-prone skin feeling clean and fresh
For face and body, suitable for sensitive skin
DISCOVER THE OTHER
PRODUCTS OF THE RANGE
EFFACLAR is a complete range proposing anti-imperfection solutions that targets all the stages of the imperfection with a high efficacy, while ensuring tolerance.
Cleansing, Purifying & Foaming, removing Impurities
Reduces Sebum
For Oily Acne-Prone Skin

EFFACLAR
PURIFYING FOAMING GEL

Corrective unclogging care anti-imperfections skincare anti-marks anti-recurrence

EFFACLAR
DUO (+)
LEARN MORE ABOUT
WHAT IS ACNE

HOW TO GET RID OF
ACNE