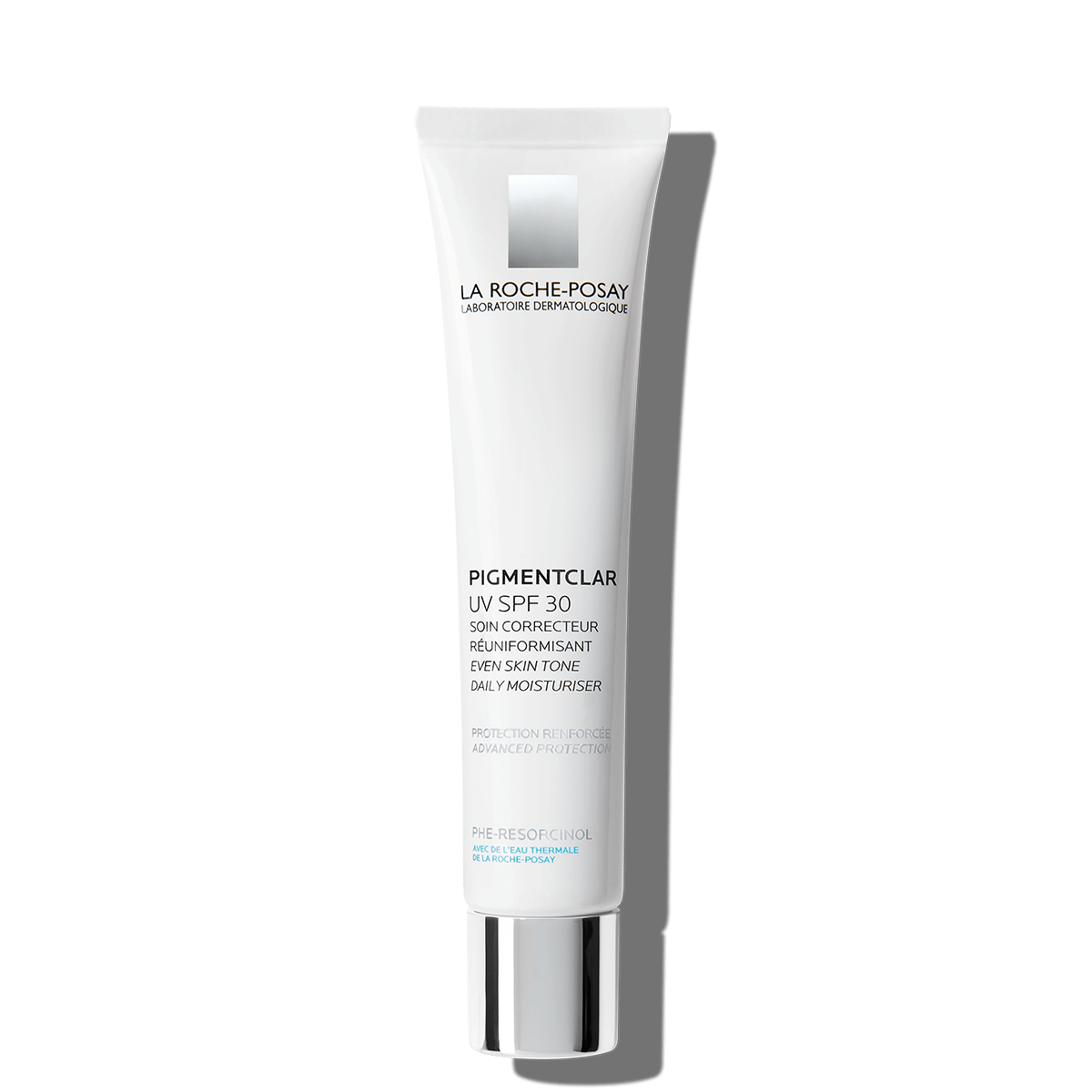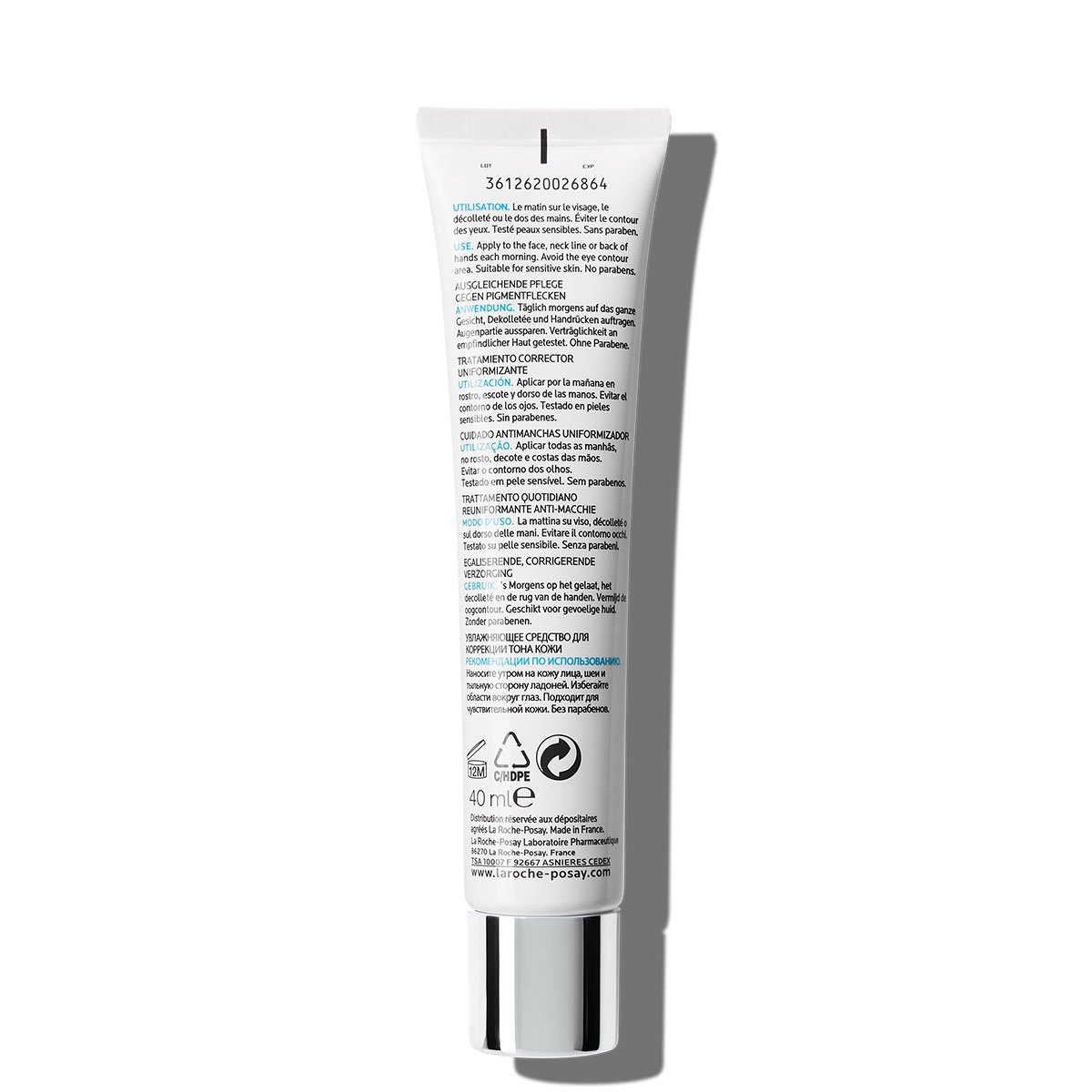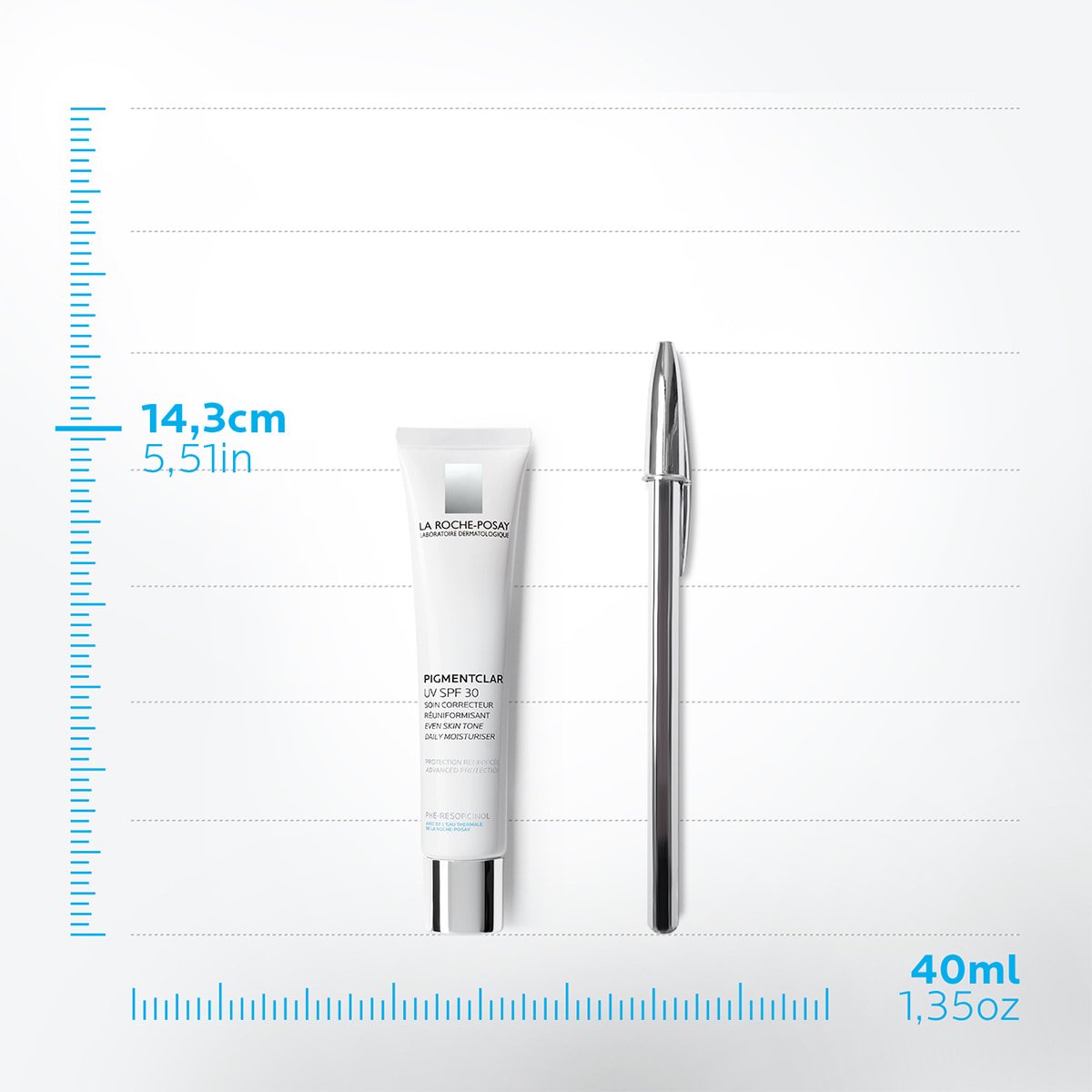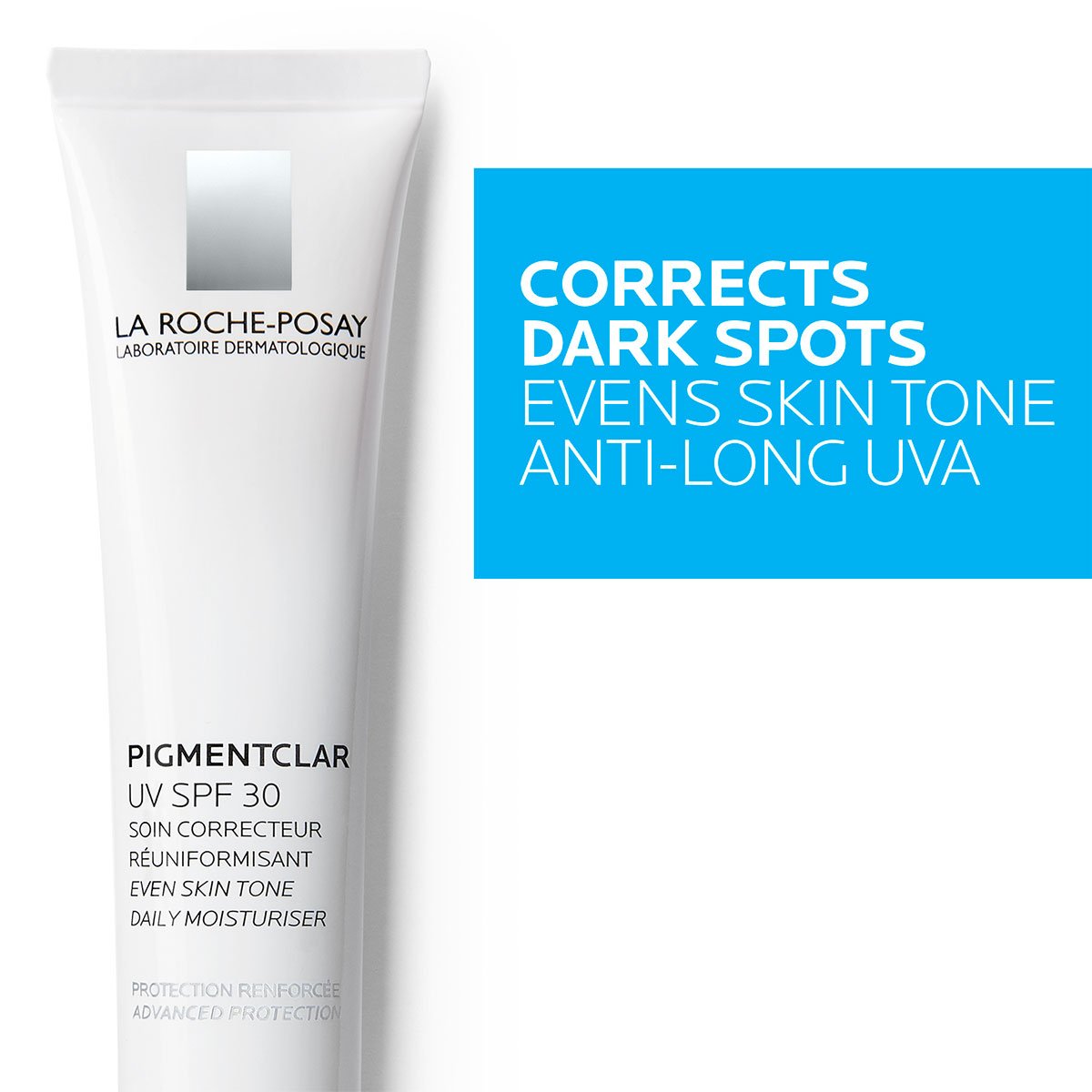 INGRAINED DARK SPOTS
IRREGULAR COMPLEXION
DARK SPOTS, DULL AND GREYING COMPLEXION
WHAT IT IS

PIGMENTCLAR UV SPF30 helps to fade ingrained dark spots and lastingly even out the complexion.

HOW TO APPLY:
Apply every morning to face, neck, décolleté, and back of the hands.
TEXTURE

Moisturising melt-in-cream
Prevents pollution particles adhering to the skin.
With La Roche-Posay Thermal Spring Water.
KEY BENEFITS

UVA and pollution produce oxidative stress in the skin. This causes two types of damage:
- Deep down, an imbalance in melanocytes.
- On the surface, oxidation of the melanin present in keratinocytes.

To correct dark spots and prevent their re-appearance, La Roche-Posay has developed PIGMENTCLAR UV SPF30. This innovative skin correcting moisturiser combines the powerful PIGMENTCLAR PhE-Resorcinol anti-dark spot complex with La Roche-Posay's advanced UV filtering system to provide triple protection against pollution, long UVA, and oxidation.

- Its anti-pollution texture prevents pollutant particles from adhering to skin.
- Innovative UVB SPF30 – UVA PPD15 filter system with Mexoryl SX & XL also filters long UVAs.
- Gingko extract + Ferulic Acid complex provides effective antioxidant action.
THE SCIENCE BEHIND

Long UVA and pollution have a considerable impact on the appearance of dark spots and a dull complexion.
LONG UVA:
- Makes up 75% of UV
- Is present all year round
- Penetrates to the dermis and causes pigmentation disorders
POLLUTION:
- Is increasing, and present throughout the world
- Has an adverse impact on complexion quality*

*Vierkötter, Andrea, et al. "Airborne Particle Exposure and Extrinsic Skin Aging." Journal of Investigative Dermatology, vol. 130, no. 12, 2010, pp. 2719-2726.

PhE-Resorcinol targets melanocytes and inhibits melanin production making it remarkably effective against dark spots.
- 1,000 x more effective than vitamin C*
- 100 x more effctive than kojic acid*
- As effective as the leading molecule used by dermatologists**

*In vitro test: PhE-Resorcinol is compared with kojic acid and vitamin C, in terms of minimum concentration needed to reduce 50% of melanin expressed at the basal level in a co-culture of melanocytes / keratinocytes.
**The association of PhE-Resorcinol 0.3% + LHA 0.3% has a comparable efficacy to that of Hydroquinone at 4% on UV-induced pigmentation.
Tolerance tested under dermatological supervision on sensitive skin.
Validity after opening:
12 Months
Tube

Adults

Corrects
Reduces pigmentation spots intensity
Even out skin tone
Anti-pollution
UVA/UVB protection
Moisturising

Face
KEY INGREDIENTS
LET'S TAKE A LOOK INSIDE
LHA
Improves skin texture
NIACINAMIDE
Lightens the skin tone
VIEW ALL INGREDIENTS HIDE ALL INGREDIENTS

AQUA / WATER • C12-15 ALKYL BENZOATE • GLYCERIN • OCTOCRYLENE • NIACINAMIDE • OCTYLDODECANOL • DIMETHICONE • BUTYL METHOXYDIBENZOYLMETHANE • VINYL D I M E T H I C O N E / M E T H I C O N E SILSESQUIOXANE CROSSPOLYMER • ALUMINUM STARCH OCTENYLSUCCINATE • TEREPHTHALYLIDENE DICAMPHOR SULFONIC ACID • POTASSIUM CETYL PHOSPHATE • DROMETRIZOLE TRISILOXANE • PEG-100 STEARATE • STEARYL ALCOHOL • GLYCERYL STEARATE • ETHYLHEXYL TRIAZONE • TRIETHANOLAMINE • GINKGO BILOBA EXTRACT / GINKGO BILOBA LEAF EXTRACT • PHENYLETHYL RESORCINOL • P O L O X A M E R 3 3 8 • AMMO N IUM POLYACRYLDIMETHYLTAURAMIDE / AMMONIUM POLYACRYLOYLDIMETHYL TAURATE • DISODIUM EDTA • CAPRYLOYL SALICYLIC ACID • CAPRYLYL GLYCOL • XANTHAN GUM • FERULIC ACID • PHENOXYETHANOL • PARFUM / FRAGRANCE.

B162234/2
Dark spots are reduced by 26.2%*
*Instrumental measurments over 40 women, after 4 weeks
DISCOVER THE OTHER
PRODUCTS OF THE RANGE
PIGMENTCLAR range offers cutting-edge products to help fading ingrained dark spots and even out the complexion.