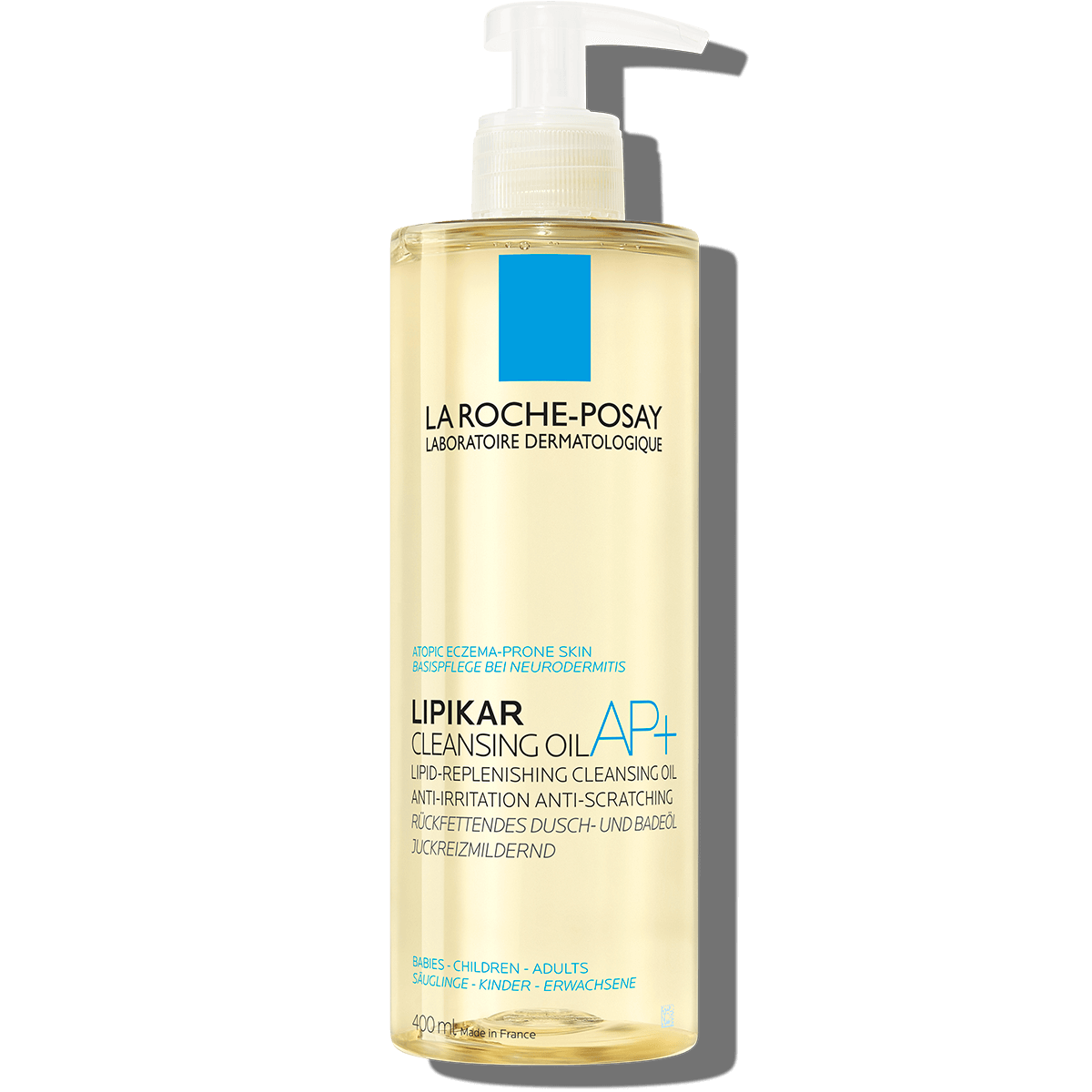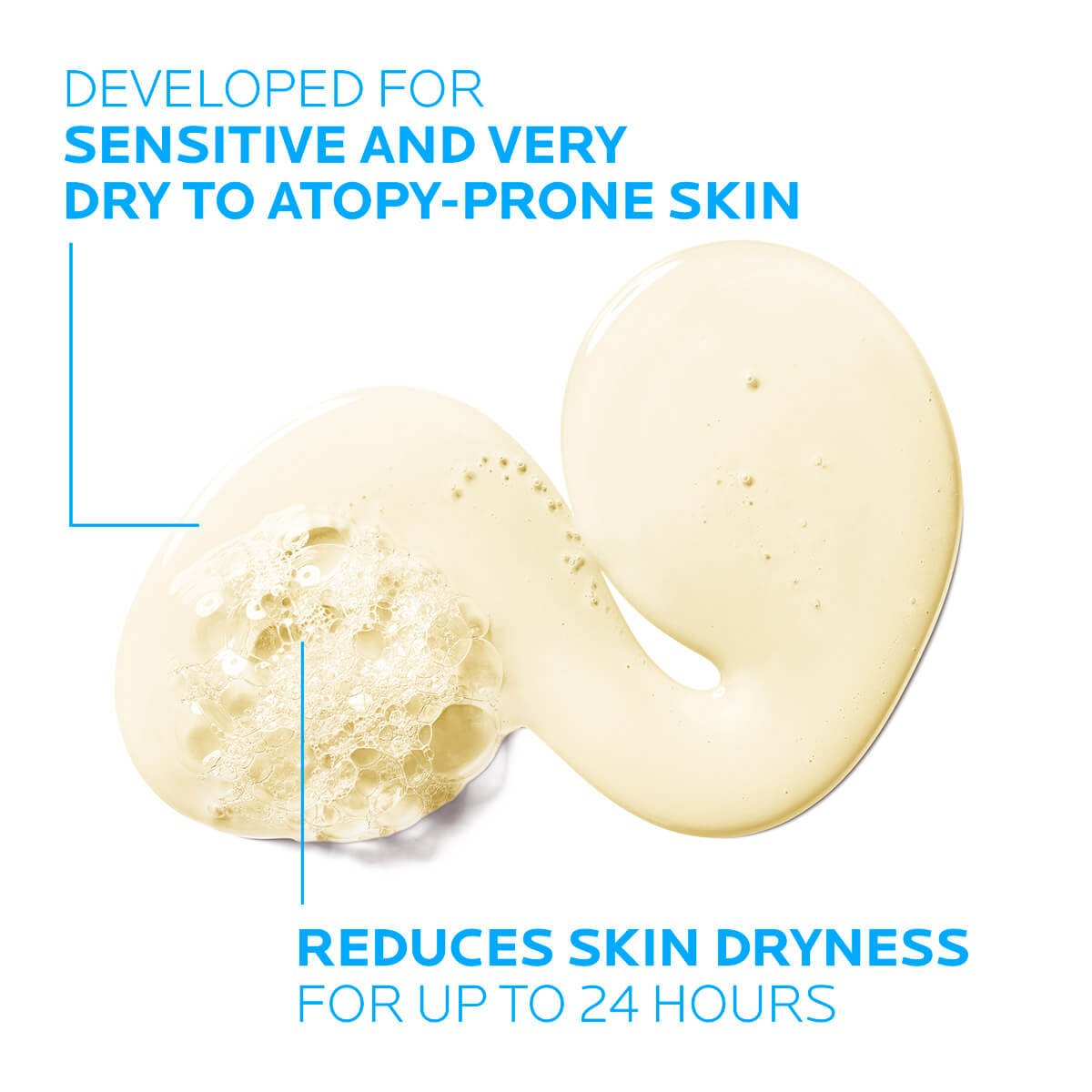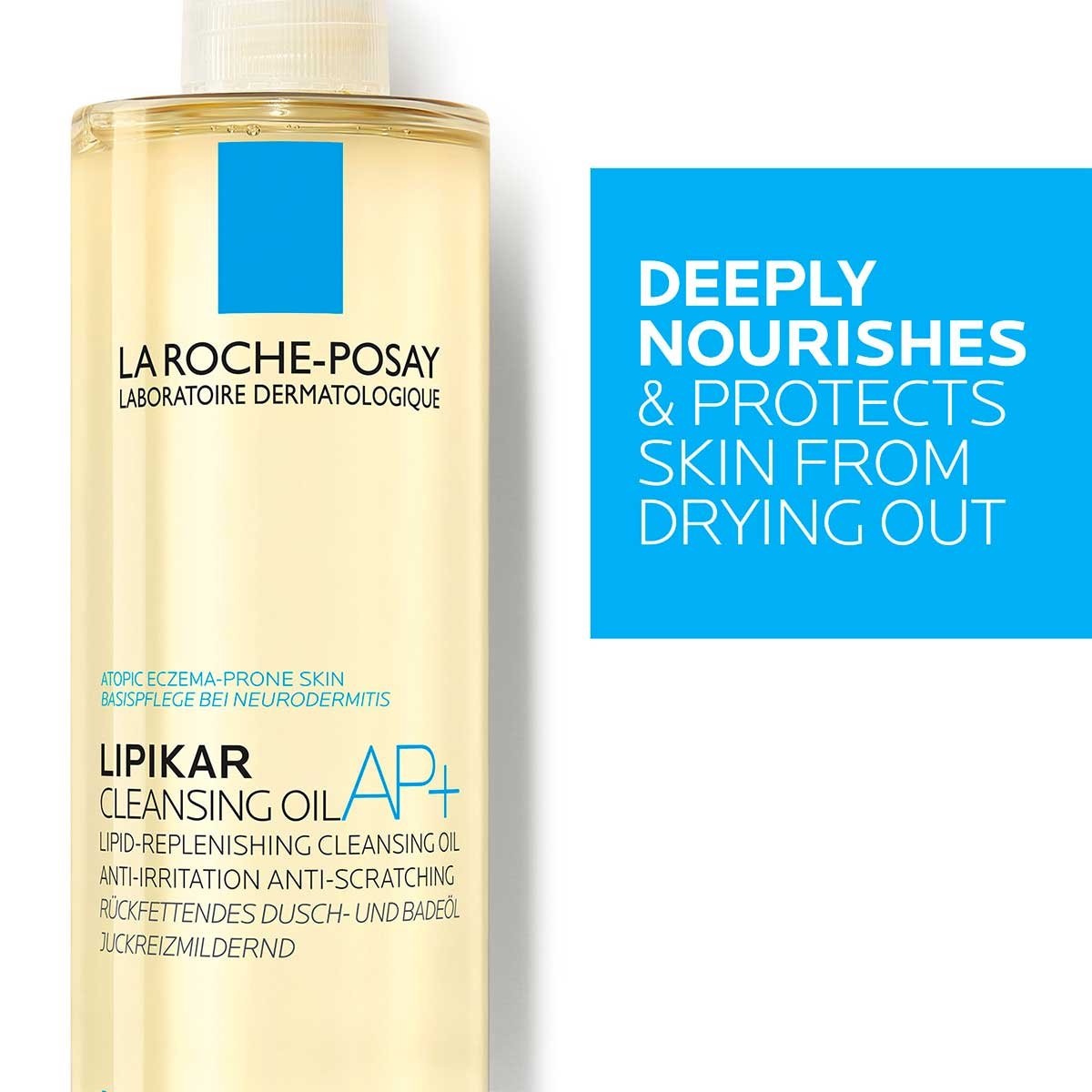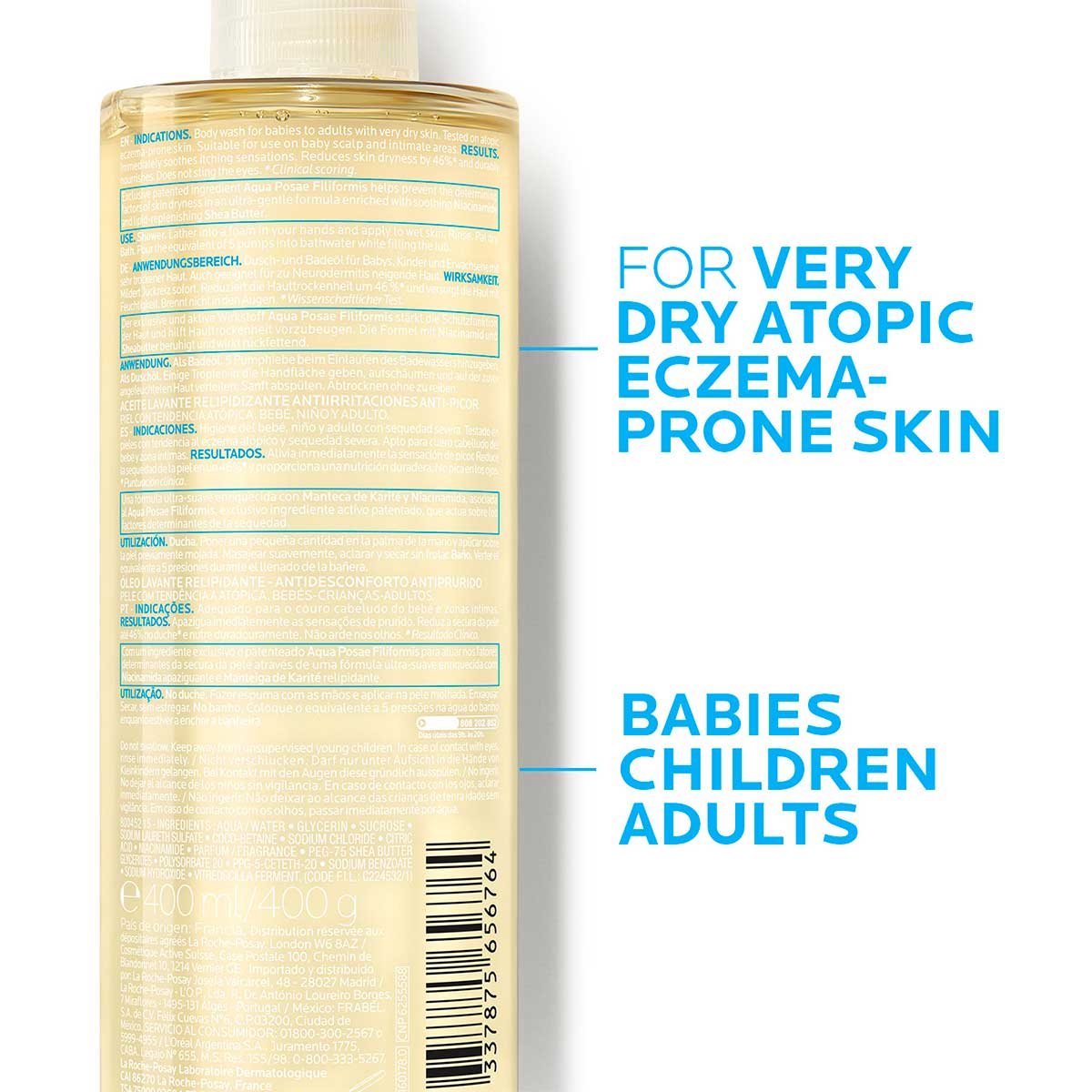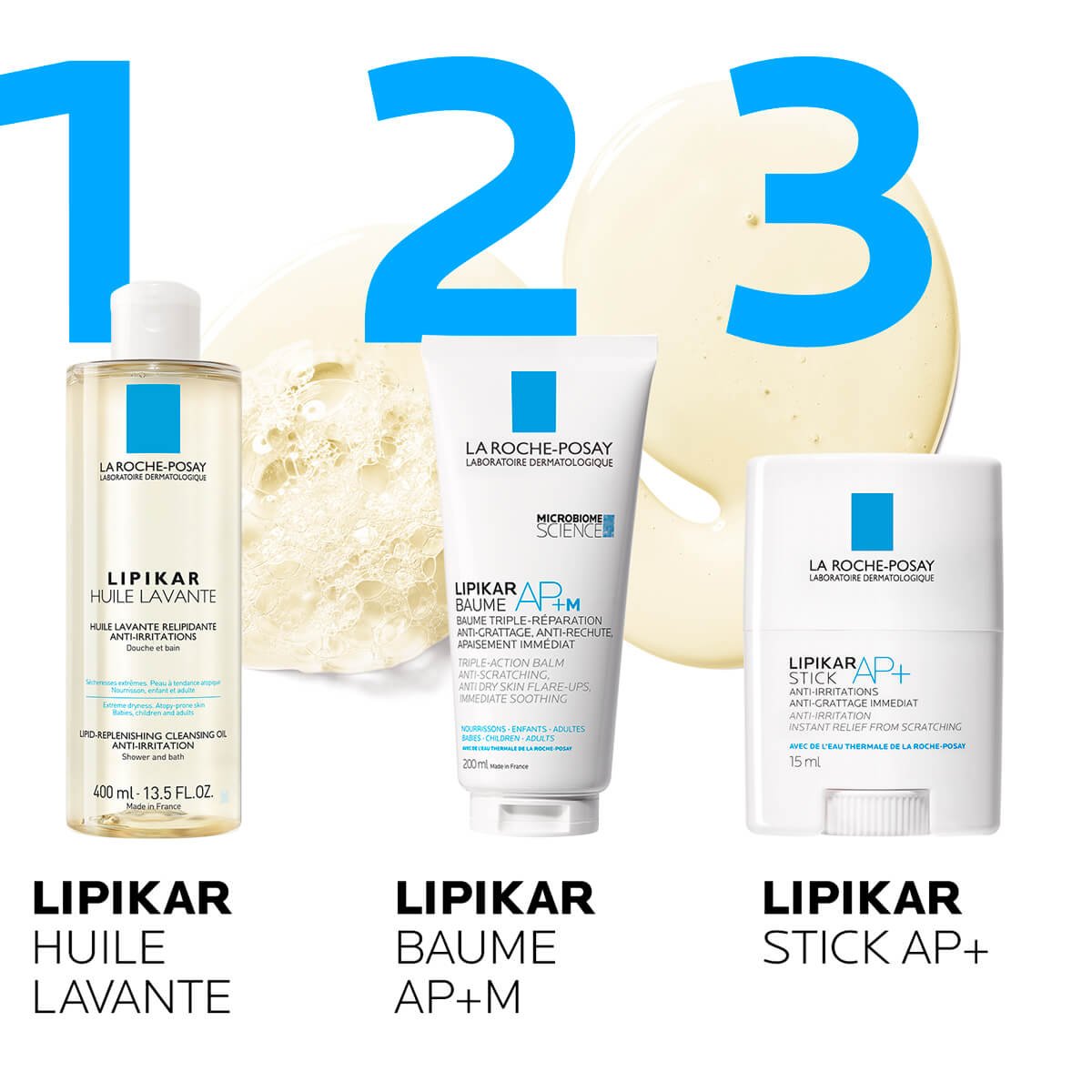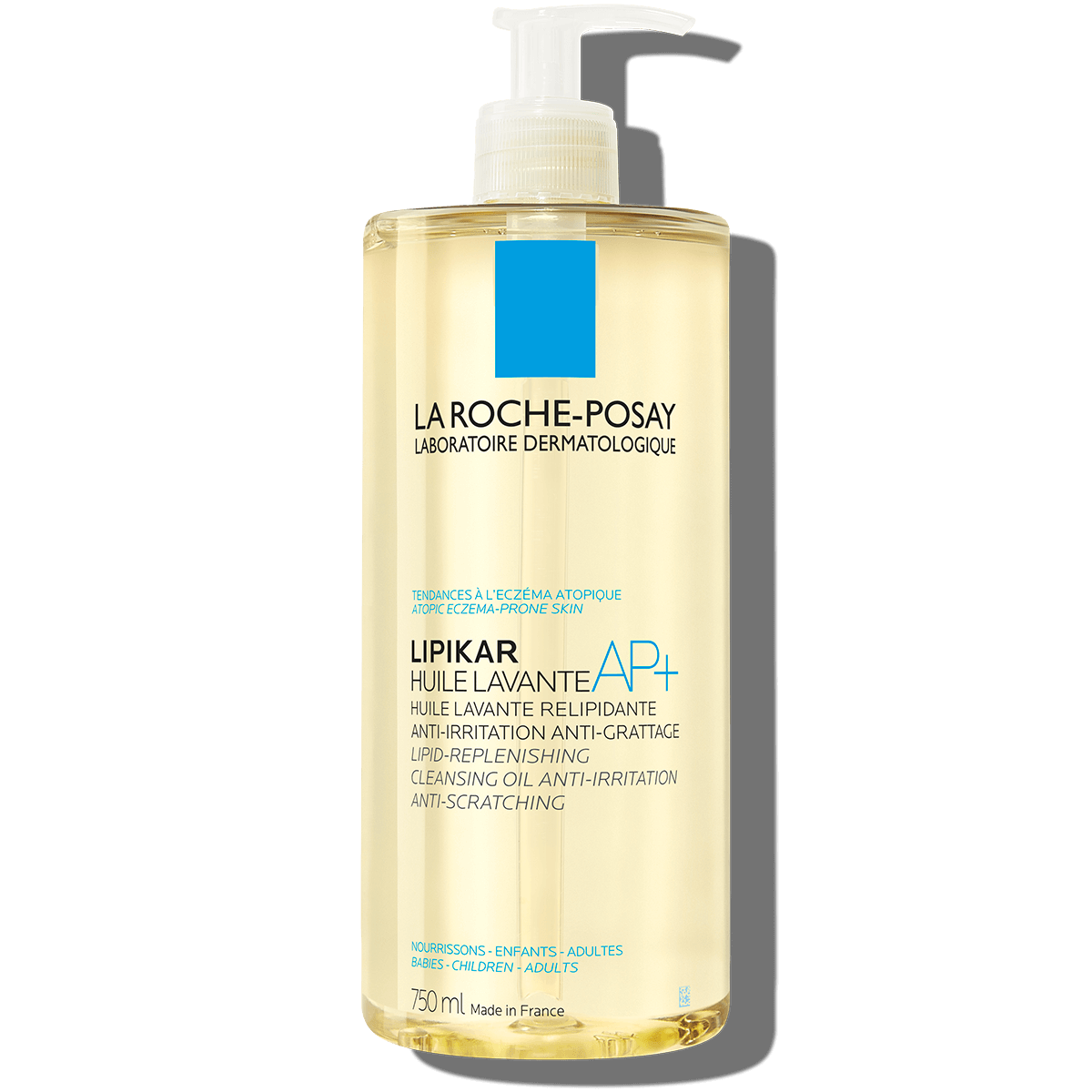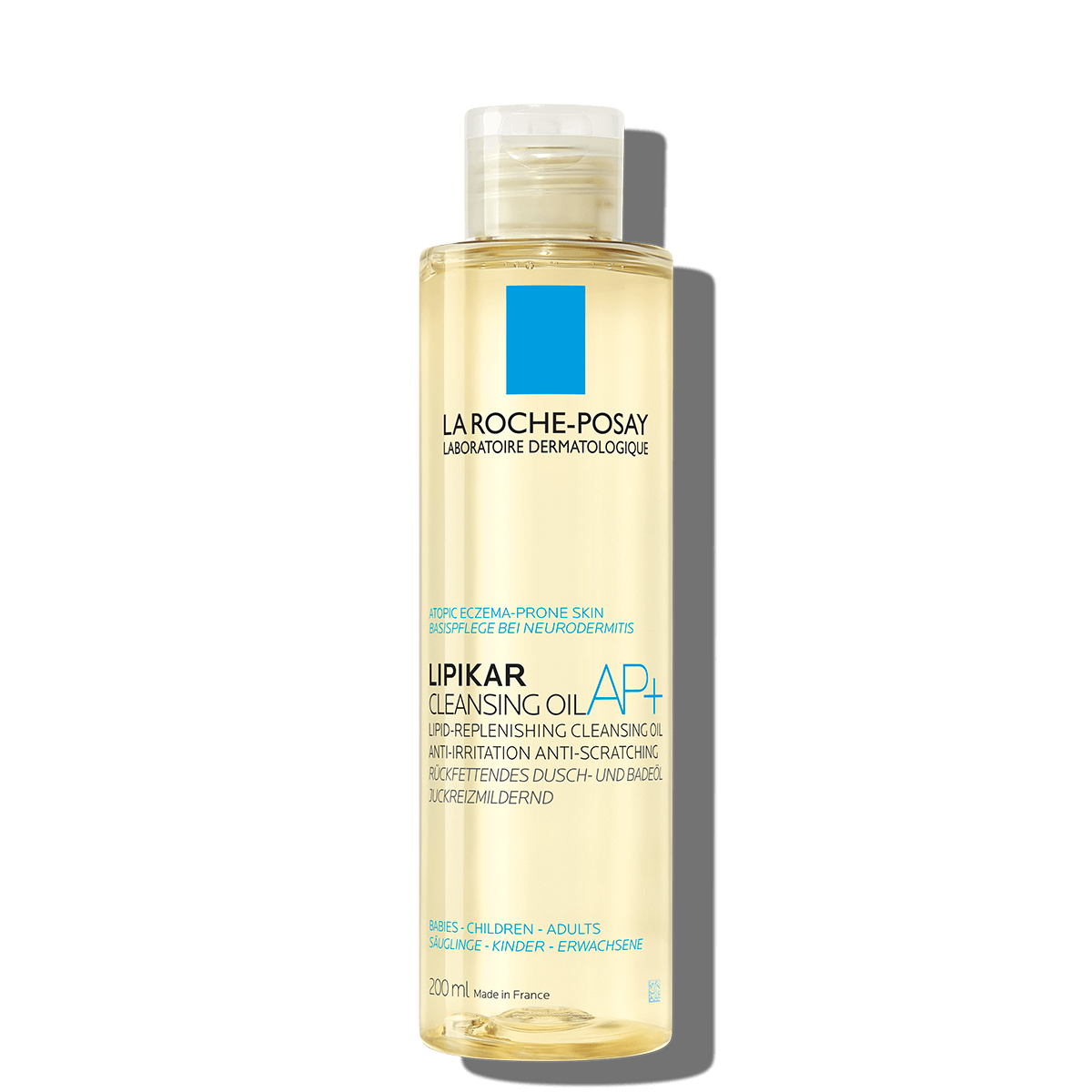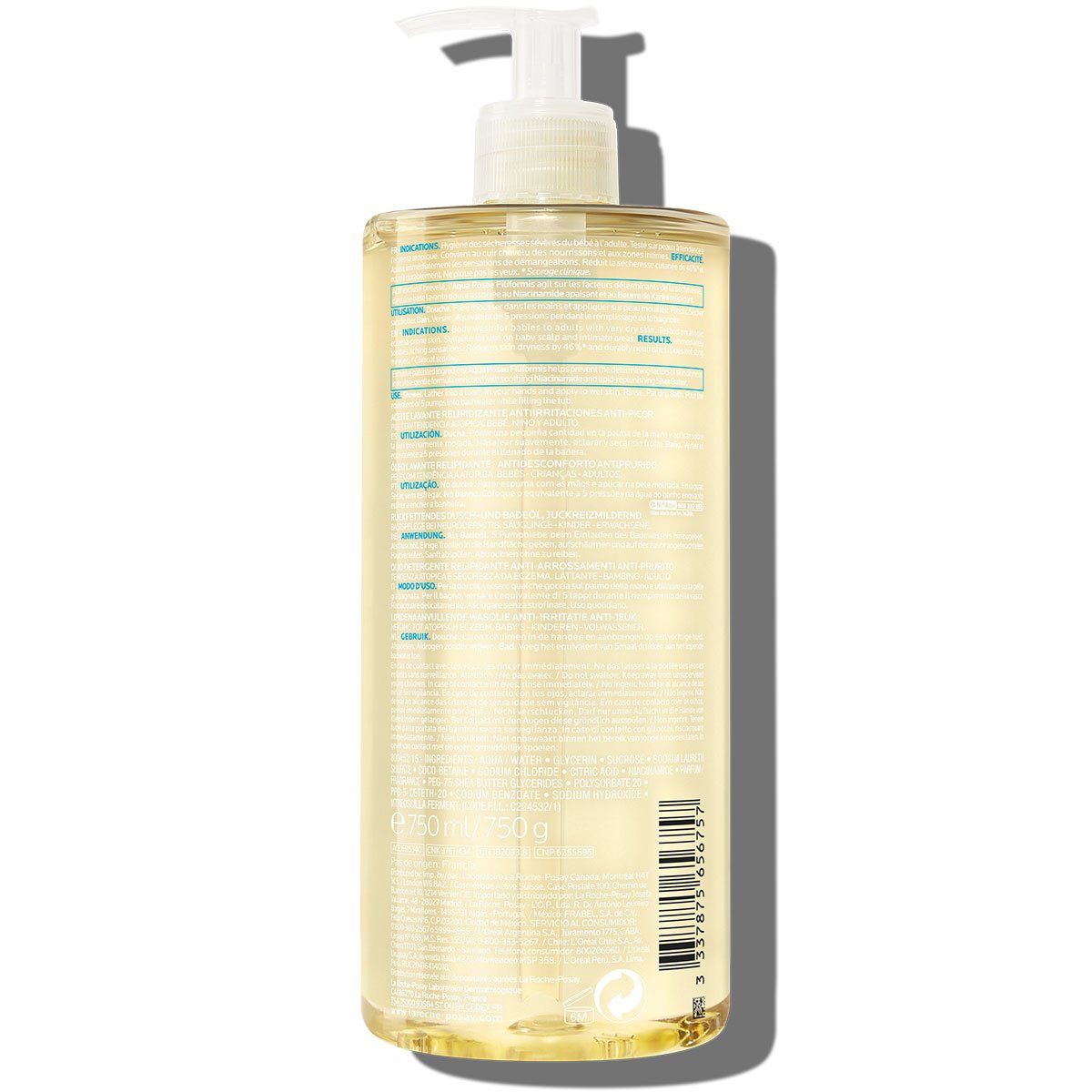 FOR ATOPIC ECZEMA-PRONE SKIN
WITH EXTREME DRYNESS
LIPID-REPLENISHING CLEANSING OIL ANTI-IRRITATION ANTI-SCRATCHING
WHAT IT IS

LIPIKAR Cleansing oil AP+ gently cleanses very dry, sensitive skin without rubbing. It hydrates, helps to restore comfort and reduce irritation, and protects the skin against the drying effects of hard water. Suitable for the whole family, from babies to seniors.

HOW TO APPLY:
Shower: Apply to wet skin. Massage gently and rinse. Gently pat dry.
Bath: Add 5 pumps to bath water and mix well.
For enhanced results, apply LIPIKAR Lait lipid-replenishing body milk after cleansing.
TEXTURE

Ultra-sensorial texture. Anti-friction foam. Hypoallergenic perfume. Easy to rinse-off.
KEY BENEFITS

LIPIKAR Huile Lavante AP+ has been specifically developed for sensitive and very dry to atopy-prone skin. Gentle enough to use on the most sensitive areas of the body; it is suitable for cleansing intimate areas, babies' scalps, and it does not sting the eyes. Its deeply hydrating formula significantly reduces skin dryness for up to 24 hours.
THE SCIENCE BEHIND

LIPIKAR Huile Lavante AP+ contains cleansing agents selected for an optimal tolerance with physiological pH. The formula is enriched with Aqua Posae Filiformis to help preserve skin balance, lipid-replenishing complex with Shea Butter for a relipidating effect, and niacinamide to soothe sensations of itching and tighness.
Tested under dermatological control with good tolerance on intimate areas
Tested under ophthalmological control with good overall tolerance. Does not sting eyes.
Tested under paediatric control with tolerance on babies' scalps
Physiological pH
100% of Lipikar Huile lavante AP+ Shea Butter comes from a socially responsible sourcing program in Burkina Faso.
Validity after opening:
6 Months
Pump

Nourishing
Anti-scratching
Anti-irritation

Babies
Children
Adults

Body
Baby's scalps
Intimate areas
KEY INGREDIENTS
LET'S TAKE A LOOK INSIDE
NIACINAMIDE
A soothing active ingredient that helps to soothe itching sensations and restore lipid barrier on skin. Suitable for atopic eczema-prone skin.
SHEA BUTTER
A key ingredient in all of the LIPIKAR formulas, Shea Butter is renowned for its ability to restore the skin's hydrolipidic film with lipids similar to skin's own.
Aqua Posae Filiformis
An exclusive patented ingredient to act on the factors responsible for extremely dry skinand help preserve skin balance.
VIEW ALL INGREDIENTS HIDE ALL INGREDIENTS

AQUA /WATER • GLYCERIN • SUCROSE • SODIUM LAURETH SULFATE • COCO-BETAINE • SODIUM CHLORIDE • CITRIC ACID • NIACINAMIDE • PARFUM / FRAGRANCE • PEG-75 SHEA BUTTER GLYCERIDES • POLYSORBATE 20 • PPG-5-CETETH-20 • SODIUMBENZOATE • SODIUM HYDROXIDE • VITREOSCILLA FERMENT

C224532/1
Clinically proven 24 hours hydration after showering:

10 mins after showering*, skin dryness is reduced by -46%

Skin quality is significantly improved after showering*:
Skin smoothness is improved by
+38%
Skin softness is improved by
+37%
*Cosmeto-clinical study, n= 43 women with dry to very dry skin, scored by Dermascore immediatly and 24h after 7 days of daily use under shower
EXPERT
QUOTE

Don't stay under the water too long and limit water contact with skin. Dry well by patting gently, avoid rubbing. Apply an emollient after every shower.
WHICH ONE DO YOU NEED?
Cleansing Oil
Lipid-Replenishing
Anti-Scratching & Anti-Irritation
Face And Body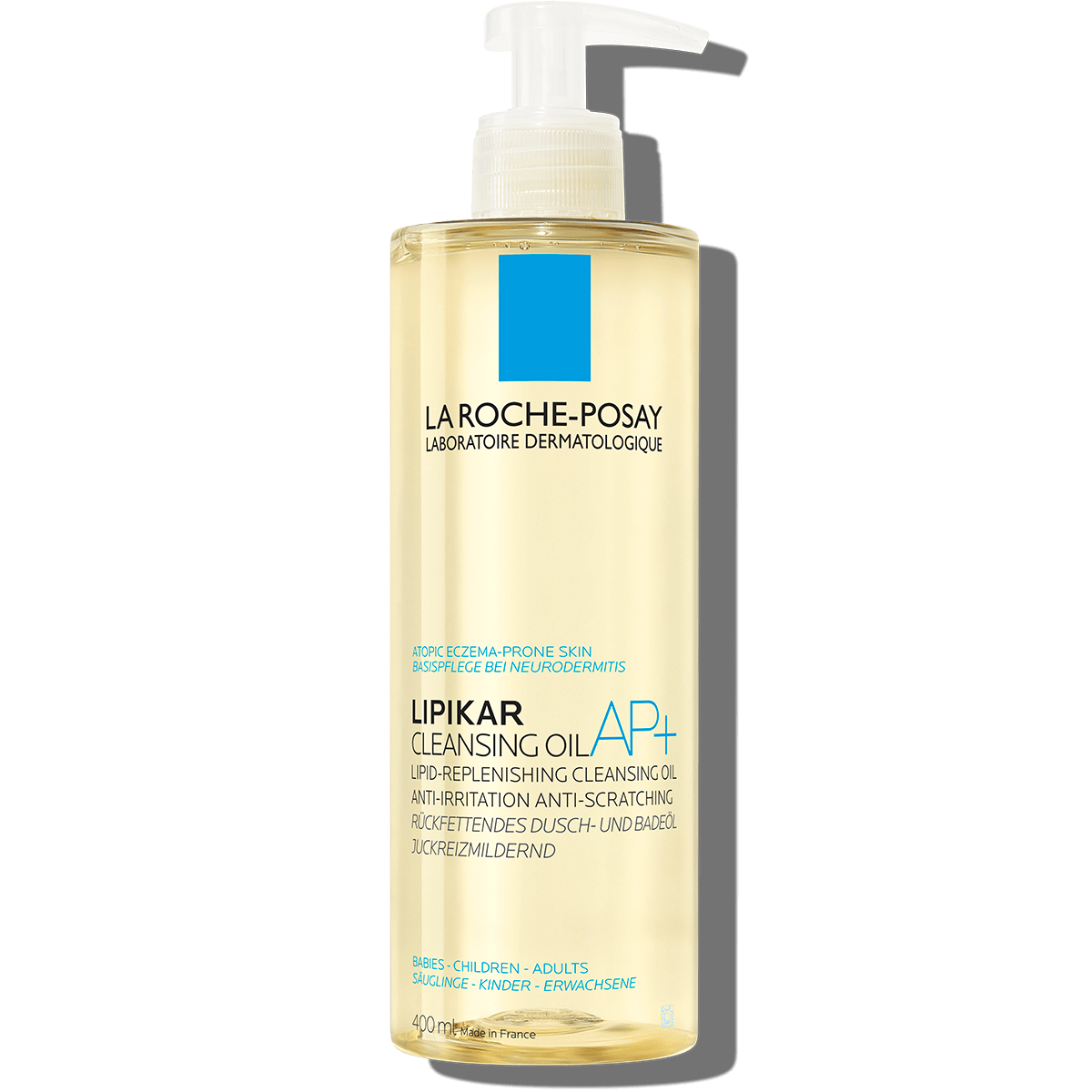 Anti-Irritation
Anti-Scratching
Ultra-Gentle Body Cleanser
Face And Body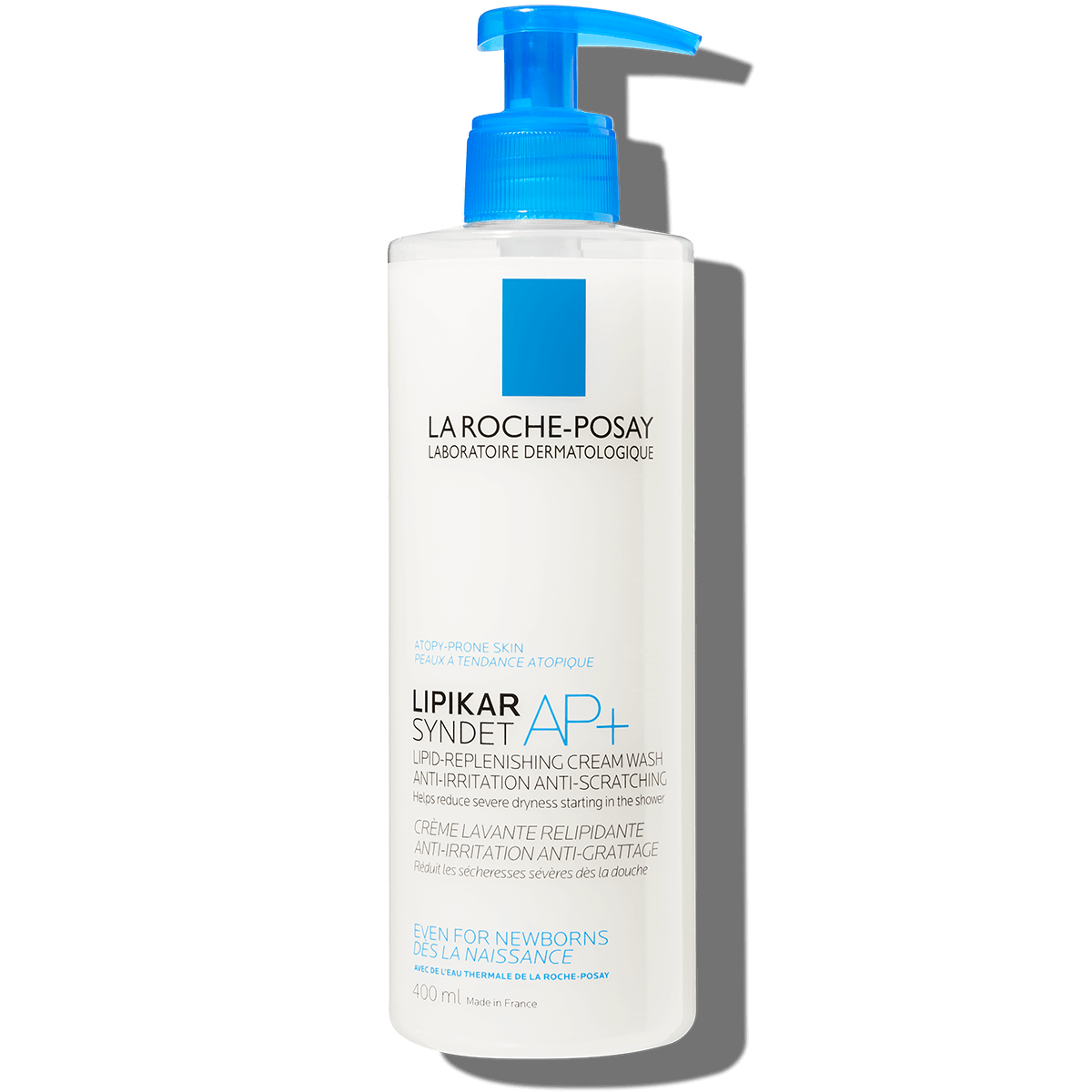 THE PERFECT MATCH
FOR YOUR SKIN
THE LIPIKAR WINNING TRIO
LIPIKAR is Europe's #1 bodycare and hygiene range, with products suitable for the whole family, from newborns to seniors. With Lipikar products, experiment the ultimate skincare routine to soothe, repair, and protect the skin's lipid barrier.
ATOPIC ECZEMA-PRONE SKIN
LIPIKAR Cleansing oil AP+ gently cleanses very dry, sensitive skin without rubbi...
Check it out
NEW LIPIKAR Baume AP+M rebalances skin microbiome. It soothes skin immediately a...
Check it out
DISCOVER THE OTHER
PRODUCTS OF THE RANGE
LIPIKAR is Europe's #1 bodycare and hygiene range, with products suitable for the whole family, from newborns to seniors.
LEARN MORE ABOUT
WHAT IS ECZEMA